Electronic signatures or eSignatures have been helping businesses improve and accelerate their daily operations for years by helping them close off legal agreements efficiently and swiftly. This is true for both large enterprises and SMBs! In fact, it's calculated that businesses can save up to 78.62% in costs and 22,000 hours annually when switching from a manual signature process to eSignatures.
Hard to ignore these numbers, right?
That's why an increasing number of businesses are using eSignatures to help them achieve robust efficiencies, cost savings, security against fraud, and increased transparency.
eSignatures also eliminate the costs involving printing, sending, and storing agreements, helping businesses save an average of $36 per agreement. They even remove hidden costs associated with human error and not in good order (or NIGO) documents, which can cost companies 3-4 times as much to process as a document that's submitted correctly the first time.
But to start using eSignatures effectively, you need a good system which can help you process them efficiently, with the right amount of security, flexibility and control. And for that, there's no better solution than WordPress!
Why? WordPress provides a flexible, robust, and strong basis which can easily adapt to growing company needs without any long-term additional costs. It's easy to set up, run and manage – plus, as it's self hosted, you're assured of top-level security always. With the right plugins, WordPress can be the best eSignature platform your business can use!
In this article, we'll have a deeper look at the advantages of using WordPress for eSignatures, what you need to know to make it work, and give you a guide on how you can effectively set up WordPress as your business' eSignature platform.
Let's get started by having a look at what you should look out for in an eSignature platform first.
What You Need in an eSignature Platform for Your Business
Complex issues require advanced solutions. And getting eSignatures processed in a legally-enforceable and efficient manner can get very complex, very fast. That's why you should aim for an eSignature platform that has the necessary features to offer added traceability, manageability, better control, and security.
Here are a few features a great eSignature solution should have:
Well-Rounded Signature Management and Easy Configurability
The best eSignature platforms offer full management of the entire signature process and provide easy configurability to swiftly add and adapt new contracts. Ideally, you want to create your own signing framework as per your organization and regulatory requirements and have the flexibility to accept and reject changes for maximum adoption.
You also want to deliver a consistent branding experience across all channels, so the platform should let you customize your organization's branding in the solution to provide a seamless experience, encouraging brand trust and high adoption rates.
Form Fillability and Trackability
Companies often have to send forms to employees, suppliers and customers which include the need for an official signature. Thanks to eSignature platforms which work well with forms solutions, they can now carry out the whole process in the blink of an eye, eliminating manual paperwork.
The process works really well if you can easily generate fillable PDFs that can be sent for quick and easy processing without the need for additional software. These PDFs can be set up to be filled in and electronically signed easily, and a system where you can manage how they are stored and processed rather than send them as attachments means you can make the whole process more secure and robust..
To make this even more complete, you'll also need to keep a close eye on things and fully track the process of getting a signature. A good notification and reminder system can help get your documents signed more efficiently and faster, and keeping track of things is also important for legal enforceability of the finalised contracts!
Robust Security With Audit Trails
eSignatures are just as legally binding as a handwritten signature, if they are processed in the right way. Therefore, you need a platform that offers the right setup to make signatures legally enforceable alongside a high level of security to keep your contractual data safe.
One of the best ways to ensure this is to select solutions that provide customers with a full audit trail of a signature process, as well as a highly secure environment you can trust.
Audit trails here refer to a digital log that archives when and where a signed document was processed, and by whom. It lets you verify it electronically back to the signer, maintaining the integrity of the contract.
Integration with other tools and Legal Compliance
All businesses use a lot of different digital tools to get their work done efficiently. To streamline the contract signing process, it's better to select an eSignature tool which can easily integrate with other tools in your existing system – or other tools you may need in the future
Additionally, while eSignatures are accepted around the world, different countries and regions have different frameworks in place to make them legally binding, with the most common being eIDAS and ESIGN. You should therefore also look into whether the eSignature vendor can support your specific business compliance needs..
So Why Choose WordPress Over Other eSignature Software?
WordPress is therefore the best solution which can help you tick all the boxes for the best eSignature solution. There's a number of reasons why!
For starters, a WordPress installation is a strong basis to explore a lot of different opportunities and gives you access to some huge benefits. The WordPress ecosystem has over 60,000 plugins available for thousands of different uses, and it's famously easy to set up, configure, maintain, and run.
Another significant advantage is the customizability and reliability of WordPress. The platform is easy to adapt to your specific needs, with a wide variety of options to help you design your processes exactly how you like.
Lastly, since WordPress is a self-hosted solution, you can easily host it on your existing company servers.. This will allow you to make the system a part of the security implementation you already have for your business, ensuring optimal safe-keeping of your critical documents and contracts with no reliance on third parties.
Other solutions usually offer parts of these advantages to different levels, but none really offer them at the same level and flexibility.. Using WordPress as your eSignature platform is really your best shot at replacing manual paperwork handling with eSignatures!
Choosing the right WordPress eSignature platform
So, how do you choose the right WordPress eSignature setup for your business?
Let's start with the ideal "ingredients" you'll need to collect eSignatures on WordPress in a secure and reliable way. These include:
Robust form solution
You need a robust WordPress form solution to collect the data needed to fill out contracts. The form solution should let you create all types of front-end forms that you can publish on your website. This way, companies can have employees and customers easily fill out the form and submit their details.
Ideally, the form solution should also enable you to easily collect signatures digitally.
Tool to generate PDFs
You'll also need a good WordPress PDF solution to ensure you can easily generate PDFs of your documents and contracts and convert any existing PDF documents into contracts with fillable forms. This way, you can easily create highly functional workflows for contract signing.
Adaptability and flexibility
You should also select a WordPress eSignature platform that offers all the adaptability and flexibility needed to configure signature collection for your specific business. You should be able to shape it to fit your organization and regulatory requirements to ensure maximum adoption.This includes setting up notifications, reminders, audit trails, and mapping and customizing workflows.
Integrations
Companies create contracts for all sorts of reasons and their requirements change all the time. For this reason, you don't want to limit yourself to a WordPress solution that doesn't offer support for advanced technologies like analytics and payment systems.
The WordPress eSignature platform should offer the possibility to add further integrations as your business grows. For instance, if you decide to collect payments down the line, the WordPress eSignature platform should allow for easy integration with payment systems.
Privacy protection
Secrecy and privacy protection are essential when it comes to all eSignature platforms. The platform should enable all the security necessary to protect the confidential data of your business and the people who sign the contracts, based on your WordPress installation. This way, you can rest assured that signees can process their esignatures in a secure way.
Legally enforceable eSignatures
You need to make sure the WordPress eSignature platform you set up offers electronic signing that's legally enforceable. Companies have little to gain from contracts that aren't 100% legally binding.
The best eSignature platform for WordPress
If you're using WordPress, like 42.6% of website owners, you should therefore consider using Gravity Forms and CosmicGiant add-ons, to build the best eSignature solution which features all of the above, and more.
As mentioned earlier, to start off, you'll need a robust form solution to collect the data needed to fill out the details in a contract. Gravity Forms is a user-friendly WordPress forms plugin that's perfect for companies looking for a way to start the journey towards collecting eSignatures powered by WordPress. It features a great design and supports advanced workflows. Plus, you can configure it to easily fit your organization's requirements.
You also need a way to easily accept signatures throughout the whole process. You can do this by combining the eSignature solution with the Gravity Forms Signature add-on. It's a secure and reliable combination for companies to take signatures on all forms and documents. The Gravity Forms Signature add-on offers full touchscreen and cross-browser support, making signature collection easy for everyone involved.
Finally, you'll need a professional PDF solution to generate PDFs of your contracts and documents reliably. The Fillable PDFs add-on from CosmicGiant is perfect for this. Additionally, it also lets you convert existing PDFs into contracts with fillable forms, to make the process of generating digital forms from existing contracts even easier.
All PDFs you generate will also be stored locally in your own servers, which means your privacy and security are fully protected. It also enables you to send automatically generated PDFs with form notifications according to your needs, build advanced workflows with adaptable and conditional logic, use password protection, and easily include eSignatures in contracts!
These tools combined will help you build a seamless and robust eSignature platform in WordPress. It ensures businesses have complete control over the signature collection process and that it's fully secure. Let's have a look at how to set things up for your next document signing process on WordPress once you have them installed!
How to set up an eSignature platform in WordPress
Here's what you need to do to set up a contract for signatures using Gravity Forms, Fillable PDFs, and the Gravity Forms Signature add-on.
Step #1: Import a PDF contract
Let's start by importing a PDF contract using Fillable PDF. This will serve as a basis to collect signatures on. For the purpose of this tutorial, we'll demonstrate by using a Photography Release Form.
Upload the form as a PDF template to WordPress using Fillable PDFs. To do this, head over to Forms → Fillable PDFs → Templates → Add New from the admin panel.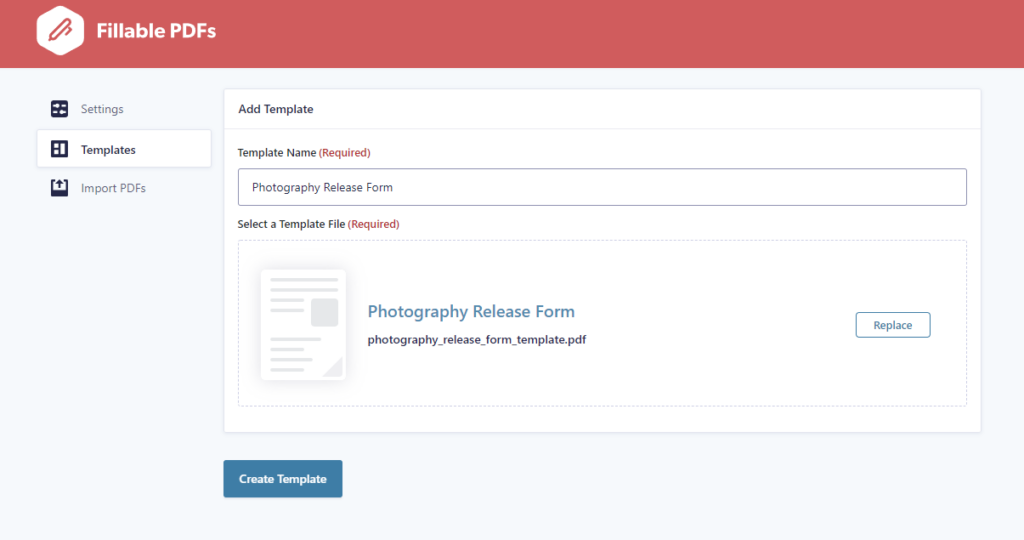 Enter a name for the template, upload the file, and click the Click Template button.
Step #2: Map the fields to a form
The next step is to map the fields for collection using Gravity Forms. Before you do that, you'll need to create a Gravity Forms form. Here's how:
Go to Forms → New Form from the WordPress admin panel. We'll use this form to collect signatures and other data from people. Think about all the data you need for the PDF document which will serve as a contract.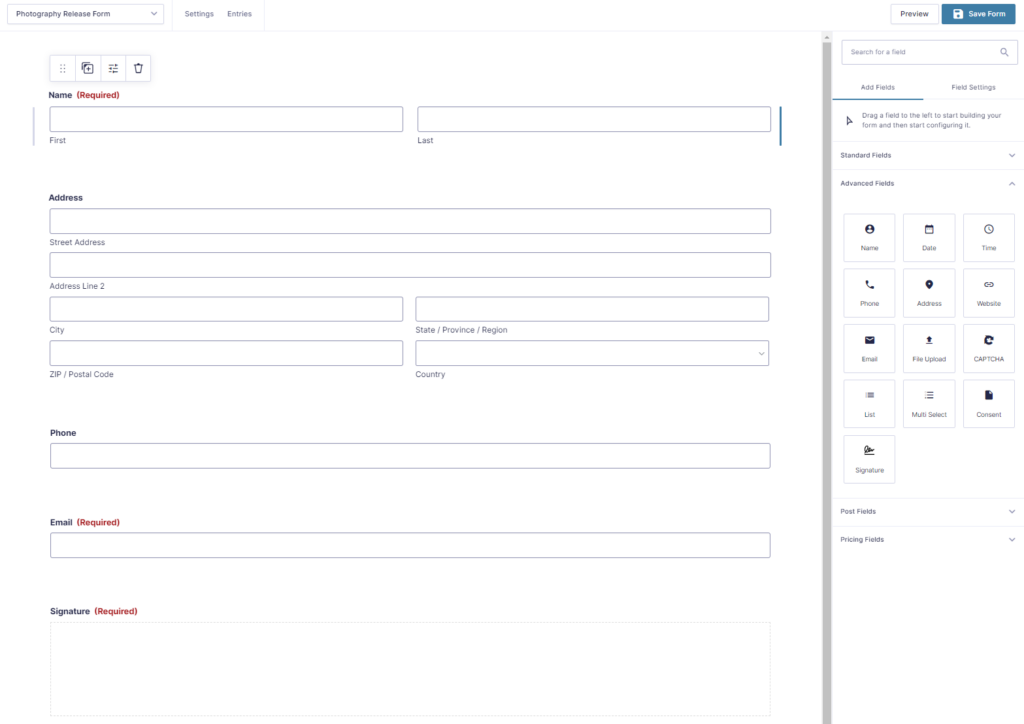 We've added fields to collect the user's name, address, phone number, email address, signature, and date.
Click the Save Form button to continue.
Step #3: Map the signature collection form to the PDF
In this step, we'll map the signature collection to the corresponding field in the form.
Go to Settings → Fillable PDFs from the same screen and click the Add New button.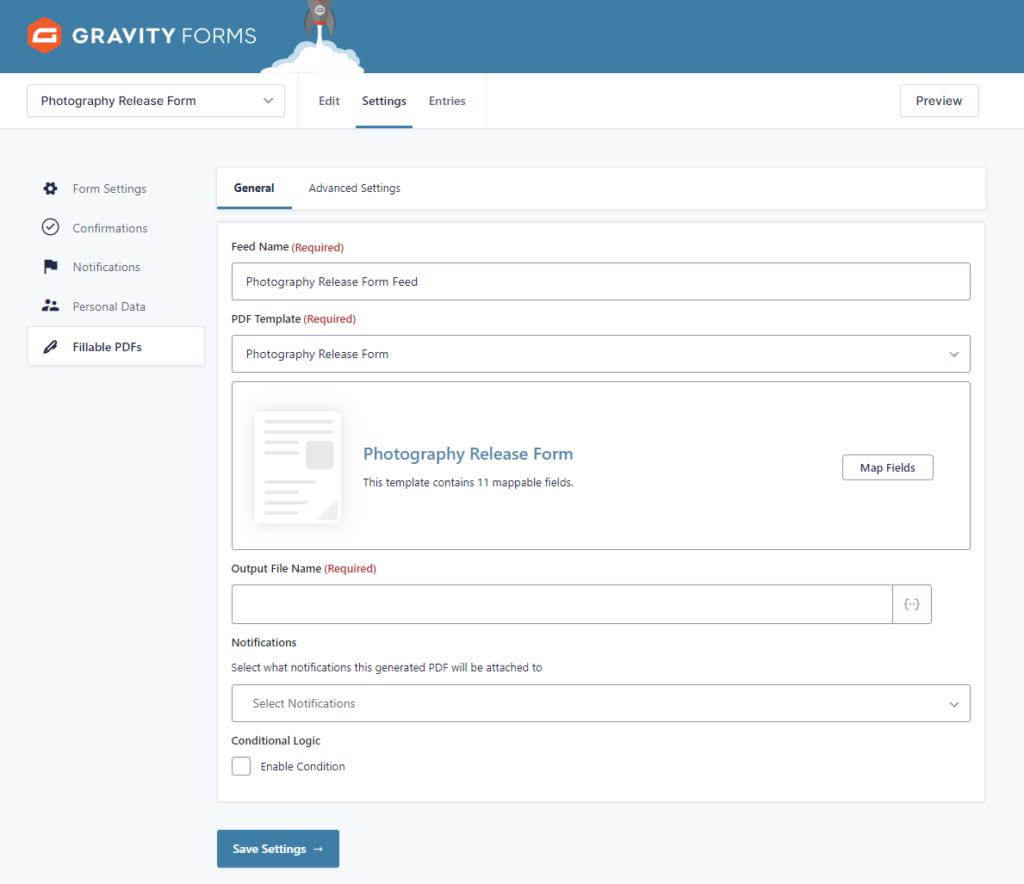 Enter a name for the feed and use the PDF Template dropdown to select the fillable PDF contract. Click the Map Fields button to start mapping form fields to the PDF contract.
To do this, click on a fillable field in the live preview section and select a field from the Gravity Forms form you created. It will look something like this: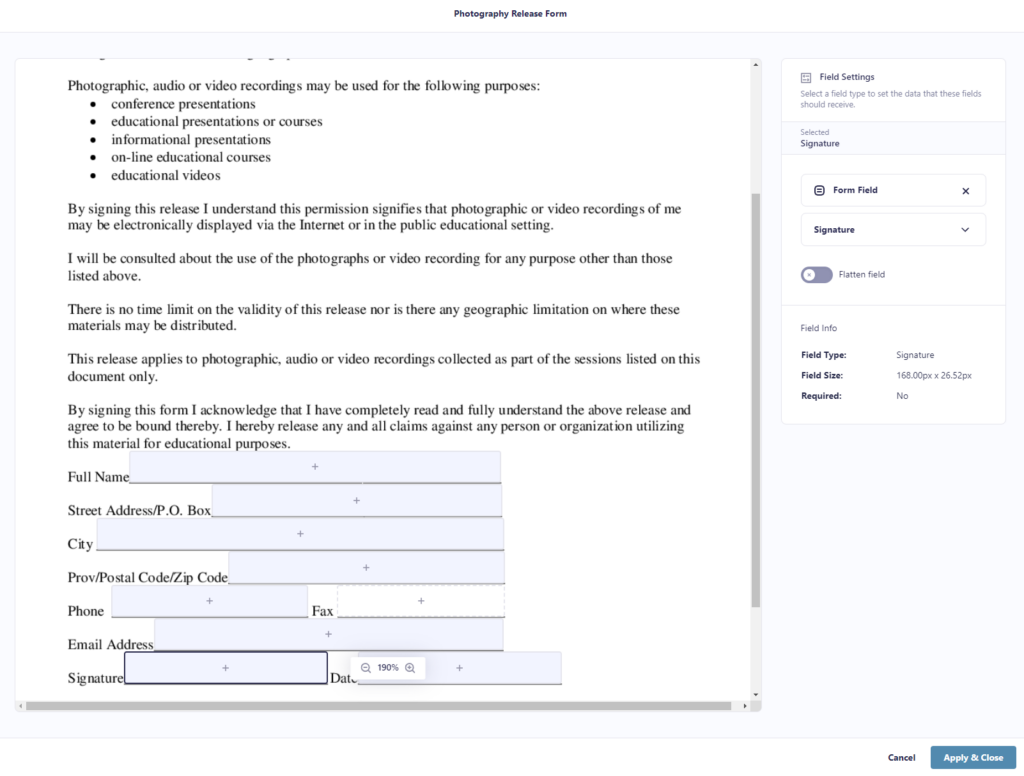 Once you've mapped all of the form fields, click the Apply & Close button.
Step #4: Set up a workflow to get the document signed
All that's left to do now is set up notifications and create a workflow to get the contract signed. You can send users their generated, signed PDFs via email by attaching it to the form's notifications.
Here's how:
The eSignature platform lets you enter an Output File Name and select what notifications you want to attach the generated PDF to.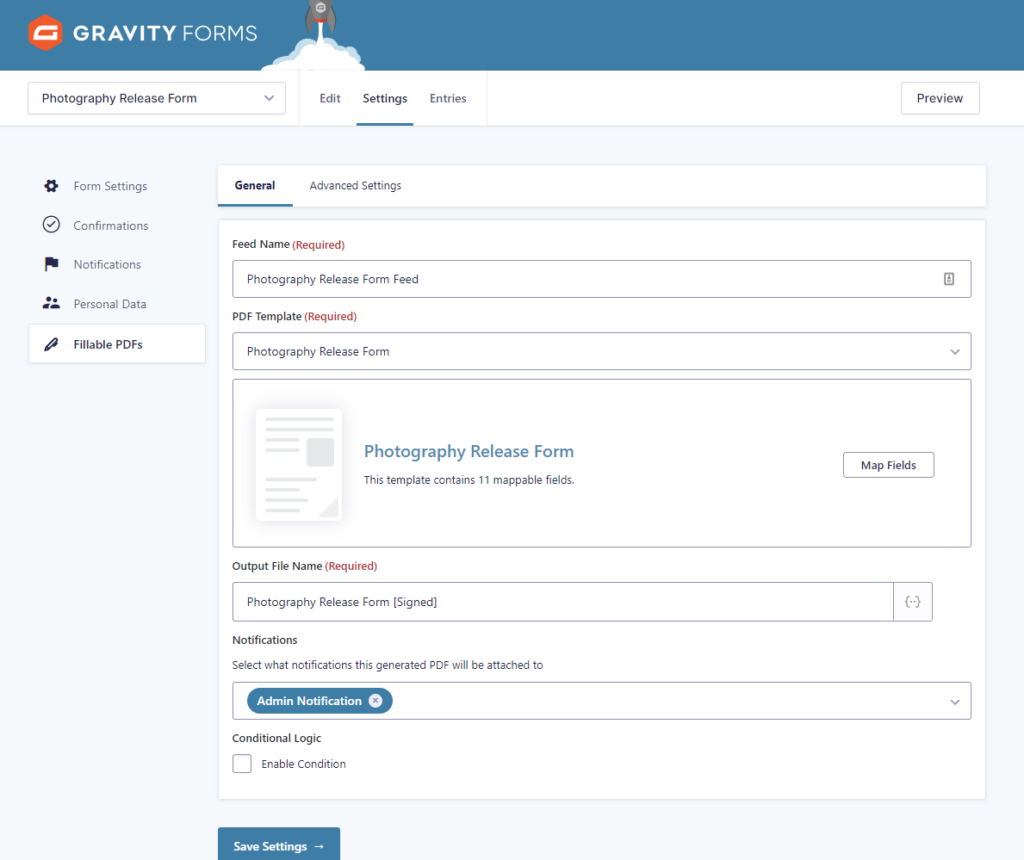 Click the Save Settings button.
Additionally, you can click on the Advanced Settings tab to set up password protection, file permissions, and much more.
That's it! Your first document is ready to start collecting signatures!
The Fillable PDFs add-on also works seamlessly with Gravity Forms built-in conditional logic. You can use this to generate PDFs that match specific set rules.
Conclusion
As we've seen, WordPress is a great solution for collecting eSignatures. It's incredibly configurable and gives you the flexibility to add in more integrations as necessary. With WordPress, you have full control over the eSignature platform, not to mention the added security, privacy protection, and peace of mind thanks to that.
The right tools also mean that you'll have a robust setup with Gravity Forms with the Gravity Forms Signature add-on and Fillable PDFs. These tools make it easy to build your own eSignature platform in WordPress! This setup not only saves you a ton of time and money, but it also makes the entire signature collection process more efficient for your business.
Ready to start using WordPress as your eSignature platform? Get Fillable PDFs today.