If you're in a position where you frequently issue and collect signed liability waivers or release forms, you know what a hassle it can be. Even if you use digital forms to save paper, the back-and-forth process can be an email and time killer.
There are online services to handle signature collection for you, but that can become costly over time.
Legal Signing for Gravity Forms helps you to take your existing liability waivers, turn them into fillable PDF forms, and collect digital signatures — all through your WordPress site. You can also set up notifications for all parties, and the signatures are 100% legally binding.
Let's go through how to set up a WordPress liability waiver in the form of a model release.
How to Create a Signable Liability Waiver
On your WordPress site you need to have the Gravity Forms plugin installed. And of course, you'll need our Legal Signing plugin.
Once Legal Signing is activated, you'll see the new item inside your Gravity Forms menu.

Preparing Your Waiver
Before you can create any kind of waiver for your clients you need to have a PDF form with fillable fields. It must include all the fillable form fields you want to be completed and signed. It's actually a fairly simple process, and we have a handy documentation article on how to do it.
When you create your form, it's a good idea to label each field on your forms with descriptive names, such as Model Signature. This will make things easier later on when you map your form fields.
Creating a Form in WordPress
When your PDF form is ready, head to your WordPress dashboard and under Forms choose New Form. You'll need to add fields that match the fillable fields on your PDF, including the signature field(s).
If you want to display the content of your contract, you can use an HTML block and fill in the field with the contents of your document.
You also need to add the appropriate signature fields. Legal Signing makes this easy by providing a Legal Signature field. This looks similar to the usual e-signature field you see in paid services like DocuSign.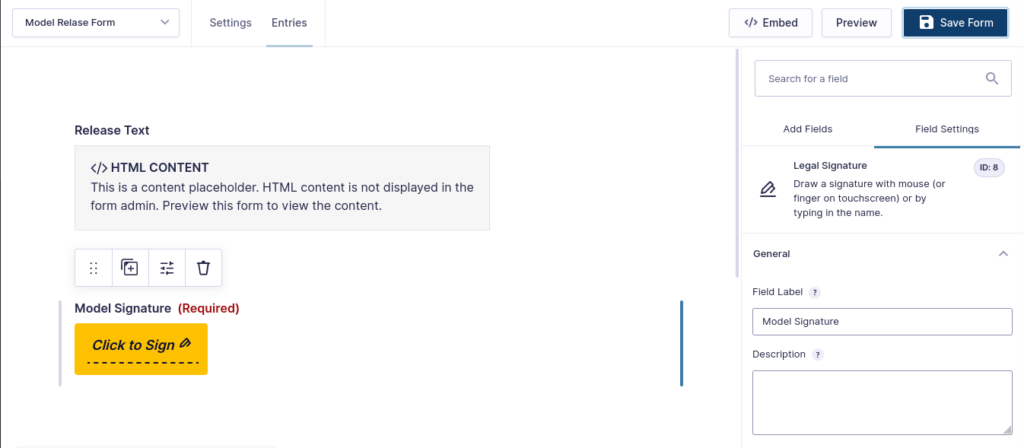 Don't forget to save your form! Now, let's create a template that integrates your PDF.
Add a Template for Your Form
In the Forms menu, click on Legal Signing and navigate to Templates. Click Add New, and in the next section give your template a name, like Model Release.
This is also where you'll upload your PDF. Drag your PDF into the window, then click Create Template.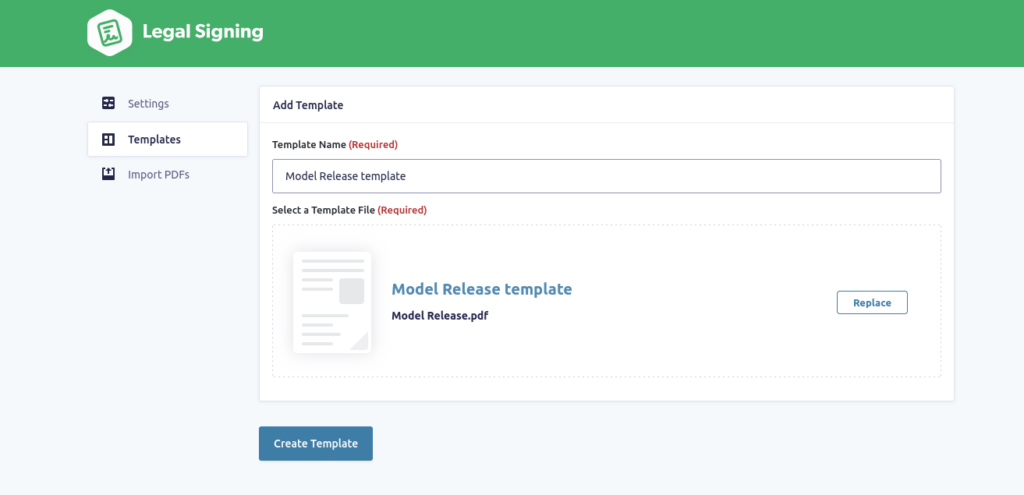 Create a Feed for Your Model Release
Go back to your Forms list and find your form. Hover over Settings and select Legal Signing.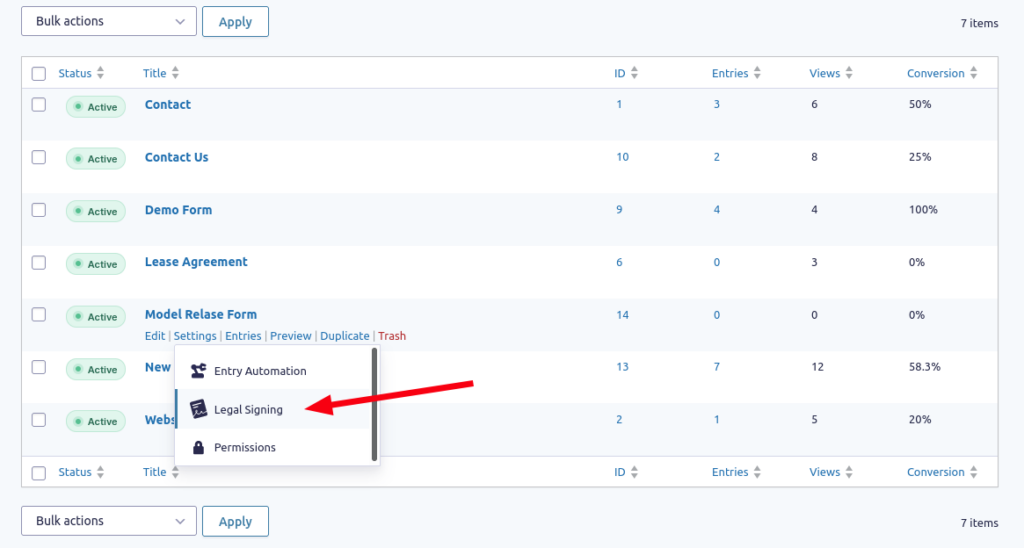 Once you're in the Legal Signing Feeds screen, click Add New.
Fill in the Feed Name and Output File Name fields based on your document, using any names that will be easy to remember later. You'll also want to add at least an Admin Notification in the Notifications field.
In the Select a Template dropdown, select the PDF template you created in the last step.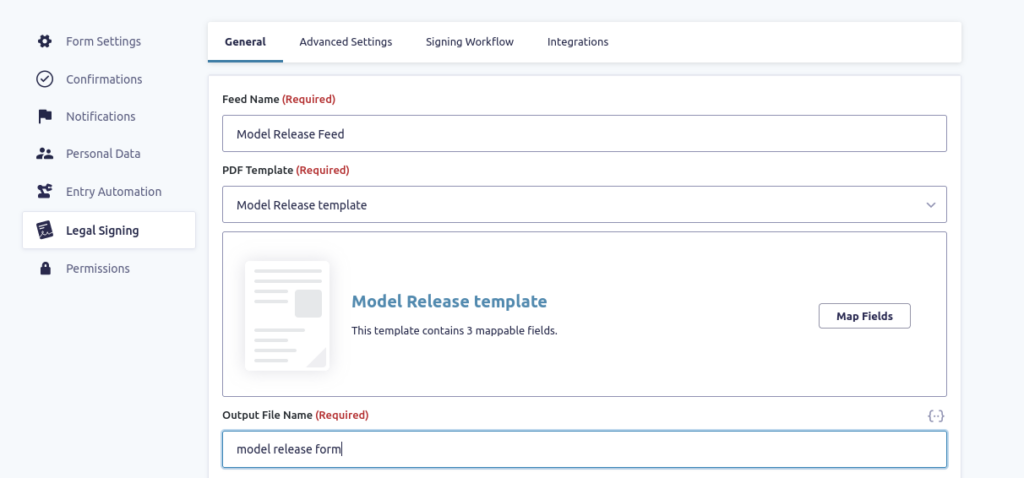 Click the Map Fields button. This is where you'll actually map, or sync up, the fields in your PDF with the fields in your Gravity Forms form. In the PDF, select a field. On the right, under Field Settings, you select the corresponding Field Type from the dropdown and then select the matching form field. This is where those aptly-named fields come in handy!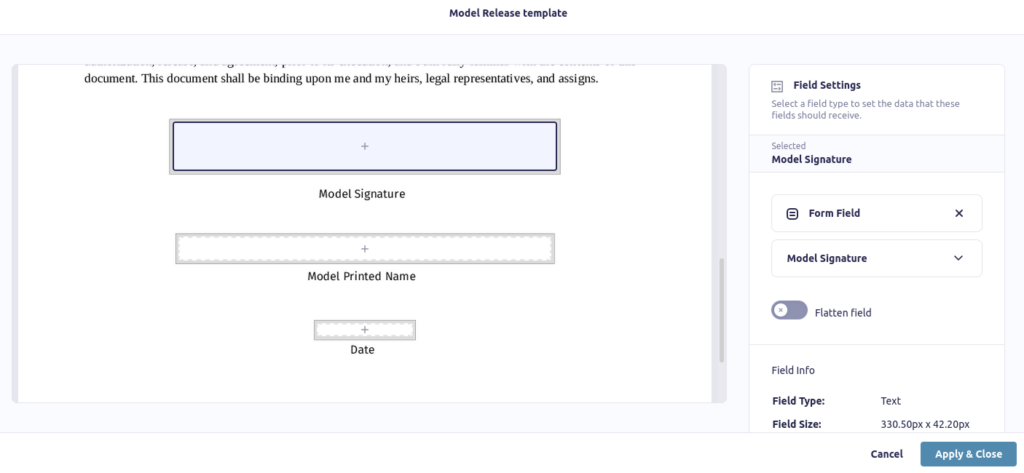 Make sure to click the Apply & Close button when you're done mapping your fields!
Advanced Settings
If you want to secure your form, you can create Owner and User passwords for your form under the Advanced Settings tab. You can also enable or diable public access to the final PDF output.
Signing the Document
Now all you have to do is display the Model Release Form on a page using the Gravity Forms block and send the page link to your model(s).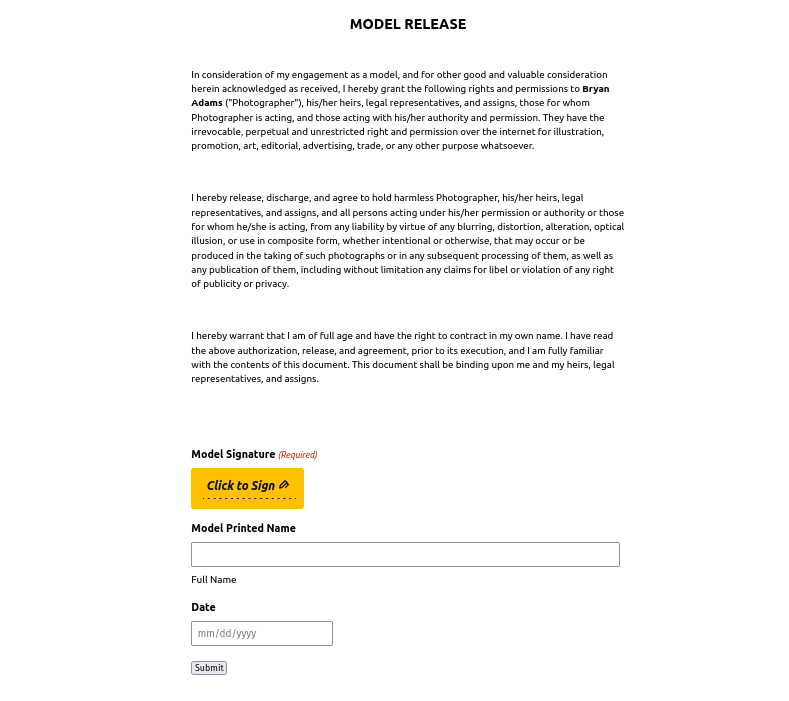 Once the form is signed and submitted, an email notification will be sent to the Admin automatically, as long as you designated that in your Legal Signing Feed notifications.
WordPress Liability Waivers for All Purposes
Remember, this process using Legal Signing is not only limited to a basic model relase form like in our example. You can set up a form and collect legally-binding signatures for any situation where you need a liability waiver or release of liability, such as:
Locations or Events

Print or publications

Sports or risky activities

School field trips

Talent Booking

The best thing about it is that you can use your existing liability waivers, and Legal Signing helps you build an online form and signing workflow right from your WordPress site.