With the eSignature market set to increase by a whopping $7.10Bn by 2025, the amount of eSignature solutions and platforms available for businesses is increasing at speed. This also means that it's becoming more and more difficult to find the right solution for your business.
If you're like 42.6% of website owners, you probably use WordPress to run your business website, and even your internal business workflows. WordPress is a great basis for most business processes, and this goes for eSignatures too. Done right, it will be the only solution you need!
Why? Because WordPress gives you the familiar benefits of the platform: flexibility, security, adaptability, and reliability. It also has over 60,000 plugins available for it, meaning you can easily adapt your eSignature solution to your business' growing needs. You're guaranteed to find a solution for just about everything.
However, finding the right WordPress signature plugin to suit your specific needs can be tricky, especially with such a wide choice available to you.
It's therefore really important to know exactly what you're looking for in a good WordPress eSignature solution. This way, you'll be able to make the best choice without experimentation and worrying that it won't be the best fit as your business grows, and that it has the right features to suit your precise needs.
This article will outline exactly what you should look for in a WordPress signature plugin and why you need those specific features. We'll also give you a recommendation of the best plugin solution available which delivers the results you require.
Let's get started!
Features to look for in a WordPress eSignature plugin
Collecting legally-enforceable eSignatures from employees, clients, and customers isn't easy. While there are a lot of solutions available, many have limited features, are incomplete or do not have the requirements necessary to make processed contracts legally enforceable. We're therefore looking for a WordPress eSignature plugin that has the full set of features needed to offer traceability, full control, security, and reliability.
Here are the essential feature to look for in a WordPress eSignature plugin:
Legal compliance
Different countries and regions have different frameworks that make eSignatures legally binding. The most common standards are ESIGN and eIDAS. This is why you need to choose a WordPress signature plugin which abides by these standards and is certified to be fully compliant out of the box: this is a requirement which makes it possible for all eSignatures collected to be guaranteed to be legally binding and enforceable.
Flexible signature collection workflow
Businesses need to collect digital signatures for all sorts of different reasons, in a myriad of different configurations. The WordPress eSignature plugin you pick should offer the ultimate flexibility in setup for signature collection, allowing you to customize signature collection flows to your specific needs every time.
In addition to this, the solution should also offer a great notification system that keeps everyone in the loop and makes it easier for businesses to track the entire process, understanding how it can be optimized and improved.
The WordPress plugin you choose should also let you import existing contracts for eSigning as well as export fully signed, final versions at any point in the process, to avoid any bottlenecks, issues, or time wasted due to extra admin.
It's also essential to opt for a plugin that provides a full audit trail of the signature process: this is one of the core features needed to ensure legal enforceability, and also enables you to closely monitor it and understand who did what and when.
Customized forms
More often than not, businesses need to collect more than just an eSignature on documents. Data needs to be customized to the signatory and adapted and filled out according to the necessities of that specific contract. This is why the WordPress eSignature plugin you select should let you collect any type of information you need for your documents, forms, and contracts easily and without the need to do extra formatting every time.
The best way of achieving this is if the plugin enables you to build robust forms for data collection and add as many form fields to the contract being processed as you want. This makes data collection and customization swift, easy, reliable and adaptable!
Field mapping is another essential feature you should look for in a plugin: this lets you map specific form fields to specific users within a template. This way, only the right people you need information from during a contract signing process fill in the relevant data, while others cannot access or amend it. This makes data collection much more reliable, especially in a multi-person contract, as it's the best way to easily collect signatory-specific data.
You also need to ensure you're delivering a smooth eSigning experience that's consistent across all channels. This is important to make sure your company's integrity, branding and trust is protected at all points throughout the process. The WordPress signature plugin you select should therefore offer features that enable you to brand and design your contracts and documents easily and effectively.
Robust signature management and security
It's essential to have a great storage and filing system for your documents to enable you to process, file, and locate them efficiently. With electronic contracts this is much easier than paper contracts, but having a proper file system which allows you to filter and sort things easily is a critical necessity, especially for companies who process a lot of contracts continuously.
Consistent development and support
Trusted developers with great reputations are important to make sure you're selecting the right solution which can reliably accompany you in the long term for your new eSigning digital processes.
Opt for a WordPress eSignature plugin that is sure to have consistent development and support from the developers. This way, you can rest assured that your plugin will always have the latest features as the market evolves and grows, as well as the latest security updates which are critical to every digital system. Finding support when you need it is also an important consideration!
Being backed by the right developer will mean that you truly have a robust WordPress eSignature plugin you can trust your most important documents with and which you can put your mind at ease with.
Identifying the right solution
Now that we know what features to look for, the next step is to identify the right solution which combines all of the above best. For this, let's look at the strongest solutions available on the market: CosmicGiant's add-ons for Gravity Forms.
First, you'll need a way to collect all the data needed to fill out and personalize the contract or document. Gravity Forms is the best forms plugin for WordPress and is perfect as a basis for your eSigning system. It features a user-friendly interface, great design, and advanced workflows, with great adaptability as well as a myriad of add-ons which can be installed separately to add further functionality in the long term. Plus, you'll have an easy time configuring and customizing it to fit your business's specific requirements.
Setting up a form to act as a basis is easy, with configuration being as simple as dragging and dropping the options you need, where you need them: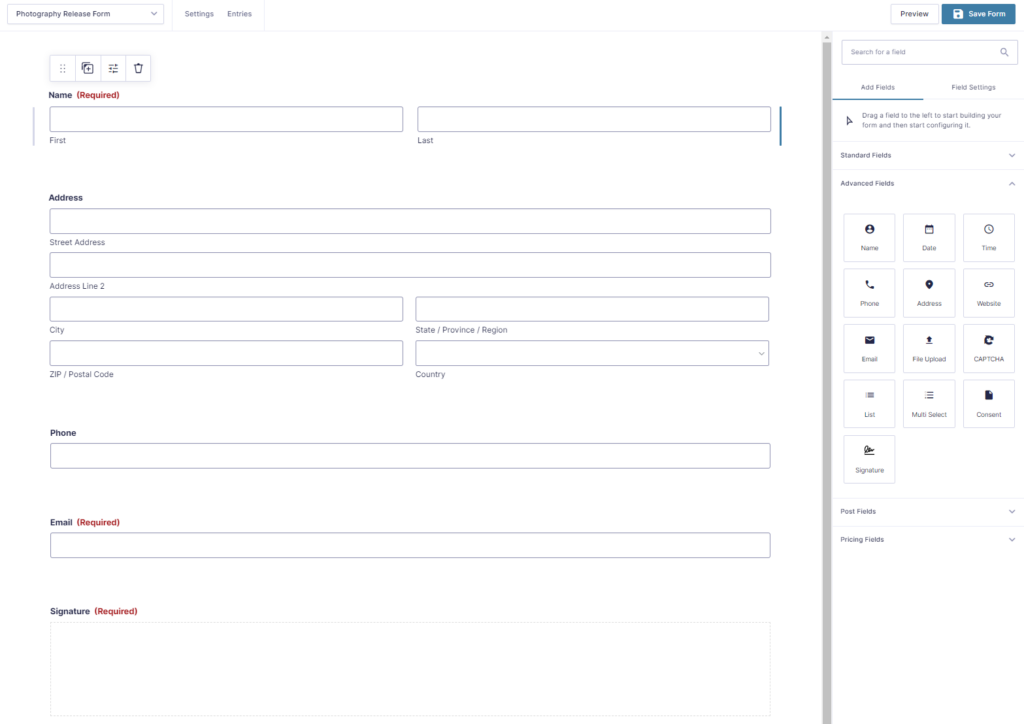 You'll also need an easy way to collect the digital signatures. The Legal Signing field for Legal Signing does exactly this: it adds a signature field to your Gravity Forms forms so that participants can easily add theirs where needed in a few clicks. This makes setup easy and enables a secure and reliable way to collect digital signatures on all types of documents, contracts, and forms. This combination offers full touchscreen and cross-browser support for the signature field, meaning collecting signatures will be very easy for everyone involved!
As mentioned earlier, you'll also need a legally enforceable eSignature plugin like Legal Signing for Gravity Forms. This plugin enables businesses to collect 100% legally binding signatures through Gravity Forms forms while ensuring full control over the signature collection process, and gives you the full flexibility and features you need to set things up well.
Let's quickly take a look at some of the key features it includes:
Legally binding eSignatures
The Legal Signing for Gravity Forms add-on lets you collect 100% legally binding signatures out of the box. It ensures ESIGN compliance and offers full audit trails that make it easy to keep track of who did what and when, giving you peace of mind.
Custom workflows for eSigning processes
Legal Signing for Gravity Forms lets you configure workflows and checkpoints the way you want. This way, you can rest assured that each contract gets signed quickly and by the right people.
You can use it to configure custom workflows that fit your business' specific eSigning requirements.
Privacy protected
Legal Signing for Gravity Forms stores the final, signed contracts and documents on your own servers. This ensures privacy and secrecy for signatories. It also lets you configure permissions ensuring only the right people have access to them.
In addition to this, it lets you send automatically generated PDFs with form notifications, build advanced workflows with adaptable and conditional logic, use password protection, and include signatures.
Conclusion
Choosing the best plugins for electronic signatures for your WordPress website becomes much easier when you know what to look for! In this article, we've identified the most important features that make up a good WordPress eSignature plugin, giving you everything you need to get started swiftly and reliably.
To recap, you need a solution that:
Makes it possible for all eSignatures collected on your site to be legally binding according to common standards such as ESIGN.
Offers flexible and configurable signature collection workflows.
Lets you set up customized forms so you can collect additional information from signatories.
Offers robust signature management and security.
Is backed by a reliable developer to put your mind and rest and ensures consistent development to future-proof your signature collection process as well as its security.
Gravity Forms and Legal Signing for Gravity Forms combined make the perfect combination for a robust WordPress signature solution. It ensures businesses are able to set up an efficient and reliable signature collection process that fits their specific requirements.
Ready to set up an electronic signature collection process? Get Legal Signing today.