As a business owner, you've probably encountered electronic signatures being used in PDF contracts nowadays. But did you know that electronic signatures are the future considering the e-signature market is estimated to hit $9,073.1 million by 2023? This indicates that having a solution in place is becoming important to more and more businesses, especially in a remote-first world.
With electronic signatures gaining popularity, people have started to prefer using them over manual signatures. This is because they eliminate location restrictions and enable participation from anyone around the globe. Put simply, electronic signatures make it easier for businesses to hire and work with people from all across the world, no matter where they may be. In addition to this, it also makes it faster to process and move things when businesses can collect signatures digitally rather than waiting for manual ink on paper.
Electronic signatures are therefore not only a great way to save time but also more secure as they reduce the risk of somebody forging signatures or committing fraud. They also leverage digital advancement, making it always easier to get access to products and information. In addition to this, users of electronic signatures don't have to worry about losing or misplacing signatures as there's no need to move contracts around physically.
In this article, we'll go over a complete guide for freelancers, employees, brands, or companies looking to use electronic signatures in pdfs instead of manual signatures.
What are electronic signatures?
Before we jump into the specifics, let's first take a step back and understand exactly what electronic signatures are. Through the U.S. Electronic Signatures in Global and National Commerce Act (E-SIGN Act) of 2000, we know that an electronic signature is an electronic sound, symbol, or a process that's associated with a contract or a record and is accepted by the individual who intends to sign the record or contract.
The bill, passed in 2000, gave people the right to use electronic signatures and gave them the same legal status as manual, wet signatures.
Electronic signatures are mainly used where signatures require people to tick a checkbox or draw their signature using the mouse. Although such online contracts are not present in a physical document form and are not as legally binding, they can still be admissible in court. This offers a sense of security for most people while also making it easier to sign contracts or documents.
Electronic signatures are however different from digital signatures. A digital signature is a type of electronic signature that uses cryptography to sign documents and uniquely associate them with the signer using digital certificates. This means that each signer needs to have a digital certificate that can be linked to the document for identification. This provides a more robust form of authentication for the signatures and makes a digital signature more legally enforceable.
You can get the certificates needed for digital signatures from trusted certificate authorities like a Certificate Authority or even from government institutions. These are trusted third parties charged with validating the signer's identity. Once they've validated a signer's identity, they provide a digitally signed certificate.
For more information on digital signatures, you can go over this article on the differences between digital and electronic signatures.
A digital signature is therefore much like an electronic fingerprint that encrypts and identifies a person's identity using the certificates. It offers a more secure and authentic solution compared to an electronic signature. Digital signatures are usually used in documents that need a fully secure and legally binding signature.
Challenges with using digital signatures instead of electronic signatures
Digital signatures truly offer a secure solution for signing contracts or documents. However, the cost and effort associated with implementing digital signatures are significantly higher than other types of signatures. Software for digital signatures typically has very high costs associated with it, depending on the level of security you need and your requirements.
This not only adds to your company costs but also slows down the whole process as signatories have to jump through several verification screens and submit documents before they procure their digital signature. This can be quite frustrating if you're looking for a quick and easy solution to securely and legally signing business contracts or documents which is fully in your control and easy to set up.
We'll get to an ideal solution to this problem a little later in this article, but first, let's look at how signatories can best get their electronic signatures on PDF contracts.
What is the best solution for signing PDFs?
So, what's the best solution for people if they have to sign a PDF?
Let's take a look at how an individual can use electronic signatures if sent a document to sign as a PDF attachment without any process tied to it:
You can attach an image of your handwritten signature to contracts using a PDF reader. You can keep the signature image secure along with your other data and upload your electronic signature whenever needed.
Another great way to include electronic signatures is by using a touchscreen device such as a smartphone or a tablet to sign PDF documents.
If you're signing a specific type of digital contract, you can sometimes simply click on either the "agree" or "disagree" button. This will be identified as an electronic signature and included in the PDF if you decide to click the "agree" button.
How to sign a PDF using an electronic signature
Let's look at the different ways to sign a PDF using an electronic signature:
For Windows or Android
If you're using a Windows-powered device or an Android device, you can use Adobe Acrobat to use electronic signatures to sign a PDF.
Start by opening the PDF file in Adobe Acrobat Reader and click on Fill & Sign using the tools option on the right. Click on the Sign button and select the Add Signature button.

Now you can choose from three different options including Type, Draw, and Image. The Type option lets you type your name and the electronic signature will appear in text format. The Draw option lets you use your mouse to draw or create your signature. The Image option lets you upload an image of your signature.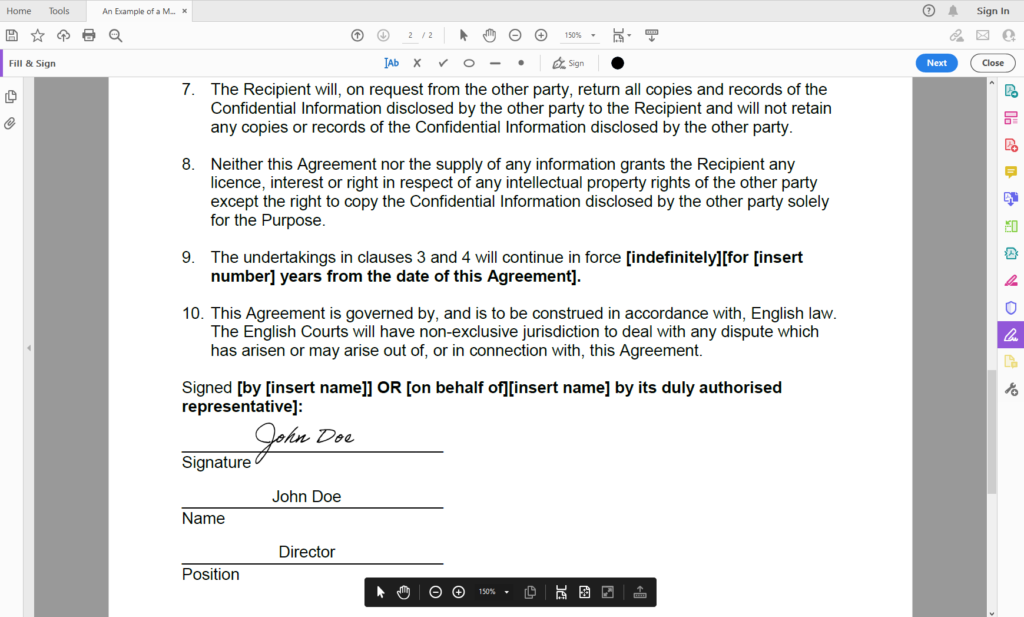 Once you've decided on the signature, click the Apply button. You can now drag, resize, and position the signature inside your PDF file.
If you're looking to do this conveniently from your mobile device, you can simply download the Adobe Acrobat app and follow the same steps mentioned above.
For Mac
The Preview application on the macOS operating system also lets you sign documents and create electronic signatures.
Just open the document with Preview on your Mac device and click the toolbox-shaped Show Markup Toolbar button. Now click on the Sign button and select from three options including:
Create a signature by dragging your finger over the trackpad
Sign a piece of paper and scan it with your webcam
Type text and draw shapes on the document.
Once you've selected how to create the signature, you can click on the File options and select the Save button to save your PDF and continue.
Why do businesses need a better way to sign a PDF using an electronic signature?
As you can tell, this isn't the best way for businesses to manage or sign contracts, and there are a few reasons why.
First, it's messy and lacks consistency. As we've seen, there are multiple ways of signing which mean different people might use a different method to sign the PDF. For example, one person might choose to create a signature using the trackpad and the next person might sign a piece of paper, scan the signature, and upload it. Plus, there's always a chance that people may sign incorrectly or forget to sign a page, especially if you require multiple signatures from the same person.
In addition to this, time management is impossible if you simply send PDF contracts over to people for signing as attachments: this also makes the process insecure.
Collecting an electronic signature in PDF documents securely and efficiently
Digital signatures are best for businesses that have to deal with a lot of legal contracts, even though it's very expensive and requires a lot of effort to implement. There is an abundance of tools and businesses that will help you set up digital signatures and guide you through the certificate creation process, with different levels of complexity and cost.
However, one of the most efficient ways of collecting e-signatures from people in a flexible, secure, reliable, and self-managed way is to make use of a system based on WordPress. The benefit of this kind of system is that it is easy to manage, more secure, and enables businesses to have full control and flexibility while managing the whole process end-to-end.
To ensure you're not collecting signatures from individuals in a messy way, you need to use a good electronic signatures solution that's reliable and secure. At the minimum, it should have:
Privacy protection
You want to make sure your solution offers e privacy protection for your clients or the person who signs the contracts. These serve to add security when the signee attaches their signature to the document.
Configurable email notifications
Email notifications help you stay updated, keep the signing process on track, and inform you when your clients have added their electronic signatures in PDF documents. Being able to configure them makes the whole process easier to manage.
Audit trails
Audit trails work the same way as an "activity log" by basically telling you what is going on with your documents as they go through the signing process. A robust audit trail acts as an official record gives you all the detail you need to know about what happened throughout the process and makes contracts more legally enforceable.
Easy-to-create workflows
The solution you choose should offer an easy way to create workflows for your contract signing. The ability to design workflows well not only saves time but can also render highly customized contracts based on forms if paired with conditional logic.
Watermarking
You always want to make sure your legal documents are watermarked in ways they cannot be reproduced or copied using your official branding or marks. This helps prevent fraudsters or scammers from forging new, similar documents on their terms.
Auto-fill
The ability of a system to have an auto-fill feature means signatories can easily fill-out details and keep the process moving along smoothly. This means that users can autofill all the information necessary with pre-set data, lowering the chance of input errors and increasing accuracy.
Integrations with relevant tools for further functions like payments and analytics
Contracts come in all types and forms. You don't want to limit yourself by choosing software that doesn't offer support for payments or analytics. Even if you don't use these features at the start, it's best to consider integrations with relevant tools for future functions or for growing your business.
It should offer electronic signing that is 100% legally binding
One of the most basic and the most important things is making sure the form solution you use offers electronic signing that is 100% legally binding. You don't want to have contracts that are not legally binding and, therefore, cannot be used for enforcement if things go wrong.
How to collect electronic signature in PDFs using WordPress 
If you're familiar with using WordPress, like 42.6% of all website owners, you can use Gravity Forms and CosmicGiant add-ons to make collecting electronic signatures a piece of cake for yourself and your business.
Gravity Forms offer a user-friendly, intuitive complete form solution for users, and is perfect as a basis for companies looking to collect e-signatures powered by WordPress. Gravity Forms packs beautiful designs, advanced workflows with conditional logic, and better email notifications and customizations.
However, you'll need a professional PDF solution built for Gravity Forms to take it to the next level. To deliver the best all-around solution for electronic signatures on PDFs, you should look no further than Legal Signing for Gravity Forms. Legal Signing for Gravity Forms gives you all the benefits of a legally enforceable electronic signature with the flexibility of forms and full control over the process based on your WordPress site. Let's go over some of the features it includes:
Legally binding signatures
Legal Signing for Gravity Forms offers full audit trails and reviews needed to ensure ESIGN compliance. This means that your digitally signed documents will be everything you need to ensure your business is set up well for every contract.
Custom workflows for every process
Not all documents and contracts are created and signed by the same people. You need to adjust to different demands and workflows and manage your digital contracts accordingly.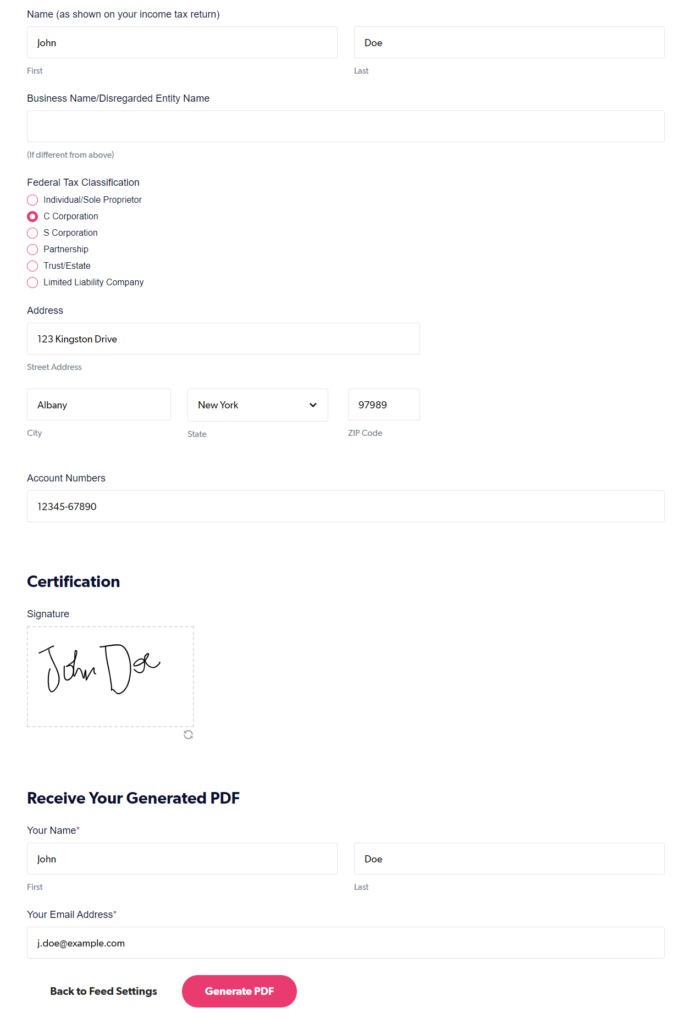 With Legal Signing for Gravity Forms, you can easily set up new workflows and checkpoints to ensure your contracts get signed quickly and with ease.
Keep a record of everything signed
With Legal Signing for Gravity Forms, you get a centralized document hub. One of the main benefits of this is that each signatory can easily refer to any documents they have already signed and ones that are still missing their signature.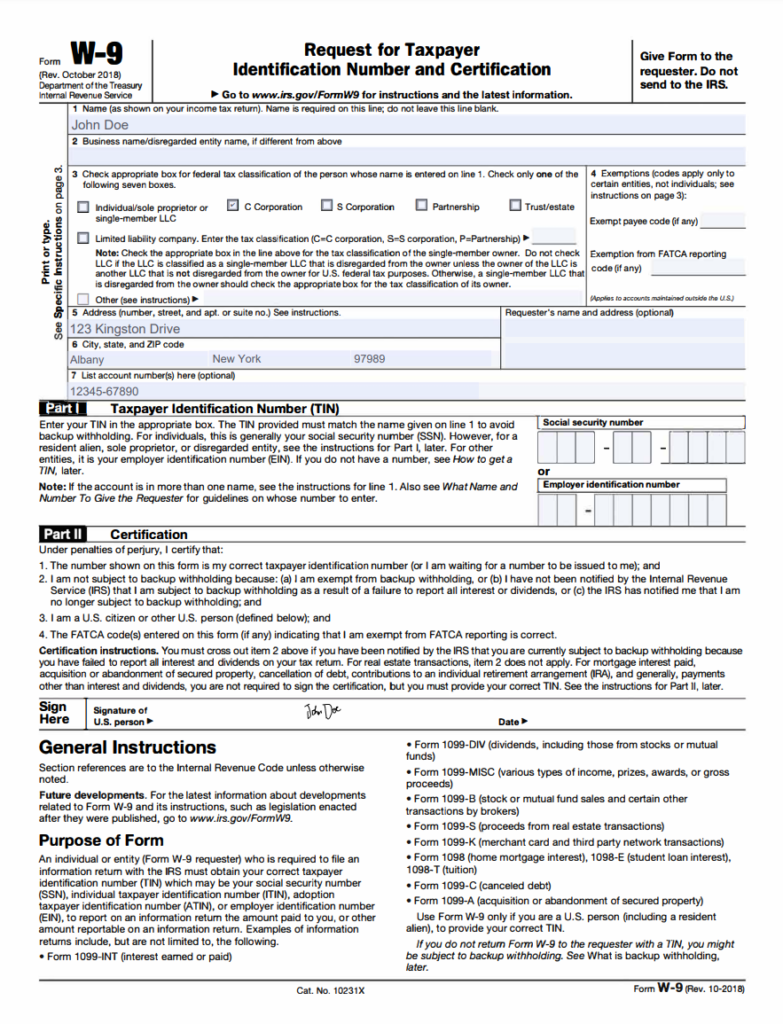 This is particularly useful for businesses that need to collect electronic signatures from employees or staff members on multiple documents and want to ensure the documents are easy to access.
Gravity Forms paired with the Legal Signing add-on makes it incredibly easy to collect electronic signatures on PDFs. You get all the benefits of a legally enforceable electronic signature with the robustness of forms and full control over the electronic signature collection process that's built into your WordPress website.
Conclusion
We've explored what exactly an electronic signature is, the difference between a digital signature and an electronic one, how to use an electronic signature in PDF documents, and how to easily enable legally binding contracts with electronic signatures using WordPress.
As we've seen, using a robust tool like Gravity Forms with Legal Signing makes it much easier to use an electronic signature in PDF documents for your contracts or documents. It not only saves you a lot of time but also provides a much stronger basis for your e-signatures on documents.
Ready to start using an electronic signature in PDF documents for your business's documents? Get Legal Signing today.