There are tons of scenarios when you might need to export Gravity Forms entries to PDF. For this, you'll need a Gravity Forms PDF solution. This way, you can easily send them via email as an attachment or print them out.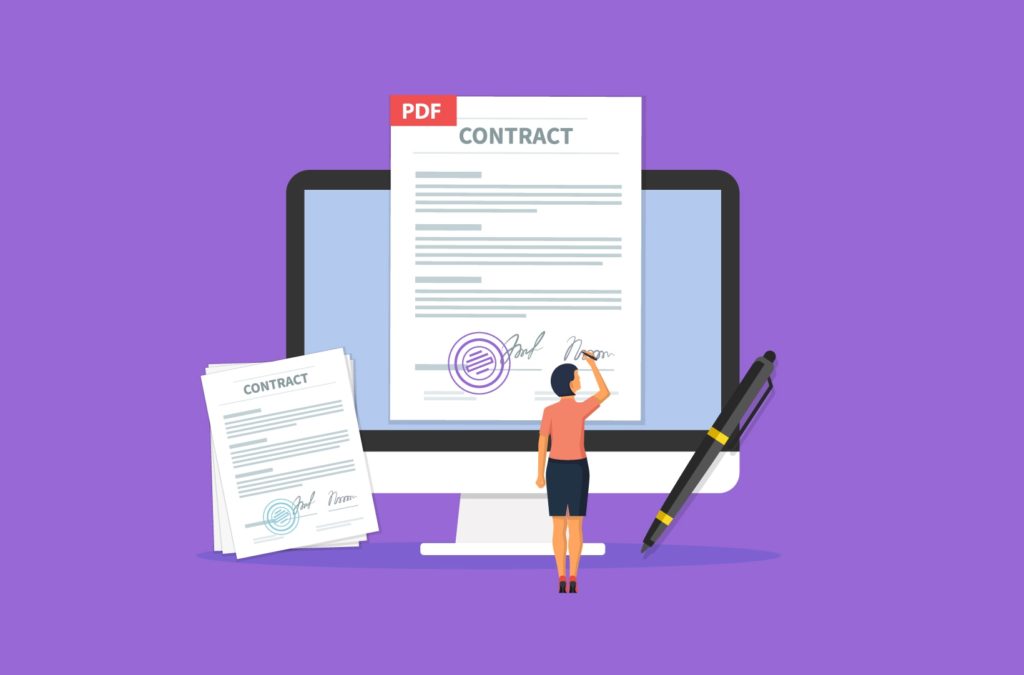 A Gravity Forms PDF solution is the easiest way to set up a data collection form and generate a PDF out of the form submissions you receive. It's especially useful for anyone that handles agreements, contracts, invoices, or applications. You can also use it to:
Automatically generate PDFs for customers or clients.
Create contracts in a matter of seconds complete with digital signatures.
Password-protect PDFs to prevent unwanted users from accessing them.
In this roundup, we'll compare and contrast some of the most popular Gravity Forms PDF solutions for WordPress to help you decide which one is right for you.
Before we jump into the Gravity Forms PDF plugin comparison, let's quickly establish an evaluation criterion.
Gravity Forms PDF Evaluation Criteria
When it comes to choosing a Gravity Forms PDF solution, it's important to consider its feature set, plans and pricing, and terms. Here are some questions to ask yourself:
Features. Do you need a PDF solution that works entirely with WordPress plugins? Or are you looking for something that integrates with third-party apps?
Plans. Are you looking for a Gravity Forms PDF solution for individual use, teams, or the entire company?
Pricing. What's your budget for a Gravity Forms PDF solution? Are you looking for a free plugin to get started with or a more robust offering?
The Gravity Forms PDF solution you choose to go with should let you create documents automatically i.e. without needing to mess around with PHP, HTML, or CSS.
5 PDF Solutions for Gravity Forms
Here, we'll compare some of the most popular Gravity Forms PDF solutions and dig deeper into the features, integrations, and support options they offer. You'll need to have a valid Gravity Forms license activated on your WordPress site for these solutions to work.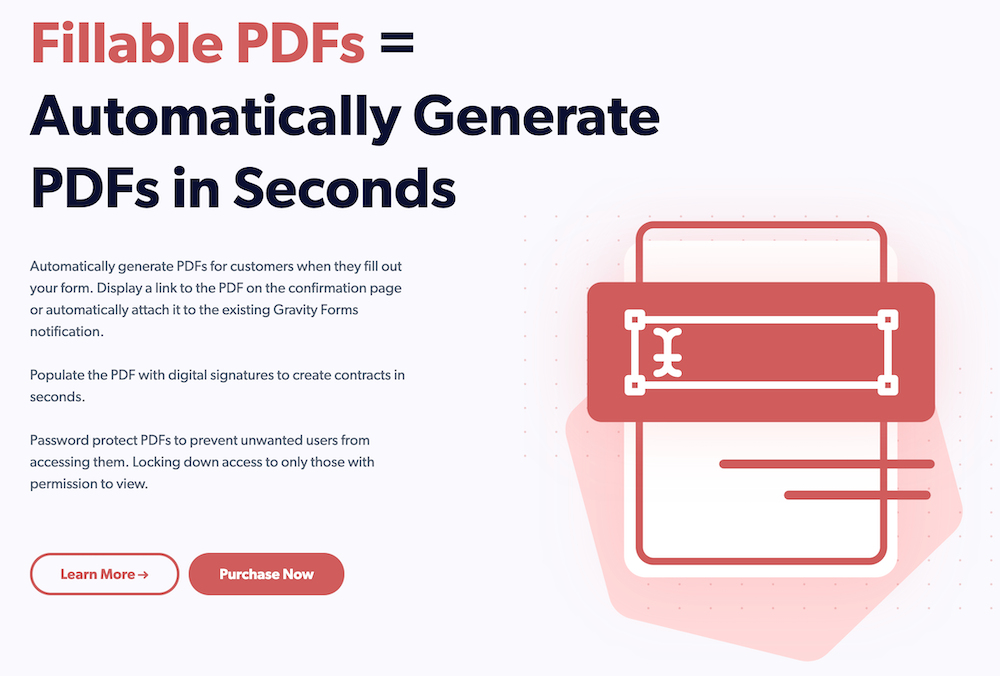 The Fillable PDFs plugin from CosmicGiant lets you automatically generate PDFs in seconds that you can link to from the confirmation page or attach to existing Gravity Forms notifications. All you have to do is map the fields from your form to the PDF and the plugin will auto-fill the corresponding entries.
It provides a privacy-friendly, visual approach to exporting Gravity Forms PDF documents. The Fillable PDFs plugin also integrates with GFChart allowing you to embed charts into PDF fields. In addition to this, it integrates with Gravity Flow, allowing you to generate PDFs with Fillable PDFs as part of a workflow. Fillable PDFs offers this integration as part of the plugin.
Fillable PDFs also offers integration with GravityView allowing you to show links to generated PDFs as part of the Views you create to display Gravity Forms entries on your site. The plugin adds a Gutenberg block that lets you display a table of generated PDFs on the front-end.
The Fillable PDFs plugin comes with premium support from the developers available through support request tickets. However, if you prefer to take the DIY approach, you can check out the knowledge base.
Key Features:
Use its WordPress esignature plugin features to add digital signatures to PDFs to automatically generate contracts.
Password-protect PDFs to prevent unauthorized users from accessing them.
Lets you import existing PDFs as Gravity Forms forms.
Supports image embedding.
Compatible with Gravity Forms' built-in conditional logic.
Reliable code: CosmicGiant is one of a select number of Gravity Forms Certified Developers
Pricing: Starting at $99 per year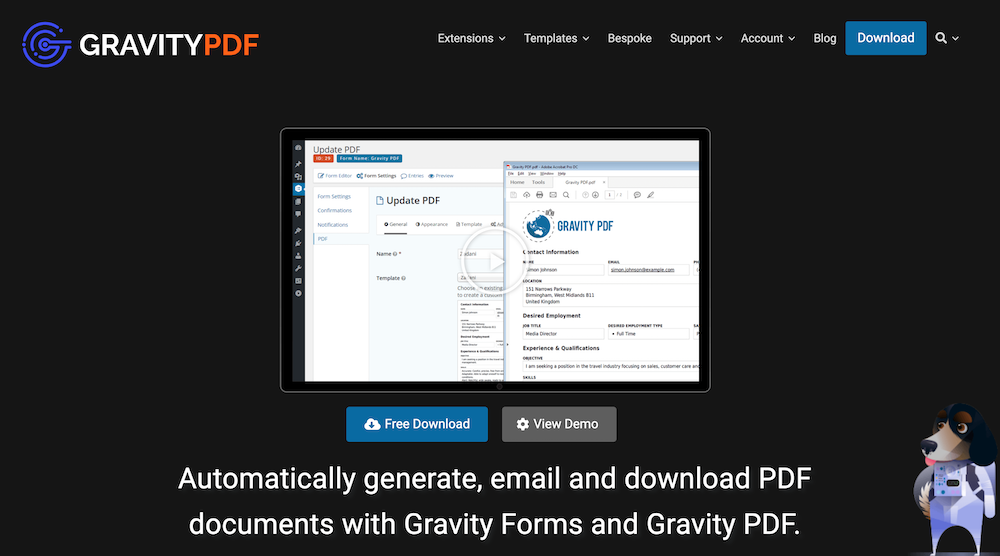 Gravity PDF is a free WordPress plugin that lets you automatically generate, email, and download PDF documents with Gravity Forms. The plugin integrates with Gravity Forms' payment add-ons (including PayPal and Stripe) and Gravity Flow.
In addition to this, the Gravity PDF plugin supports tons of premium PDF templates and extensions that you can use to enhance the plugin's core functionality or try out new PDF layouts.
However, it's worth mentioning that while the Gravity PDF plugin itself is free, making a custom template could require using their template creation services which start at $104.
The plugin comes with free general support from the developers and also has documentation that provides basic instructions and how-to guides. In terms of customer experience, GravityPDF is incredibly intuitive and easy to use.
Key Features:
Comes with four customizable PDF designs out of the box.
Set it up to email the PDF to the admin and the user as soon as the form is submitted.
Supports all languages including complex symbol languages and RTL languages.
Pricing: Free (premium add-ons available on GravityPDF.com)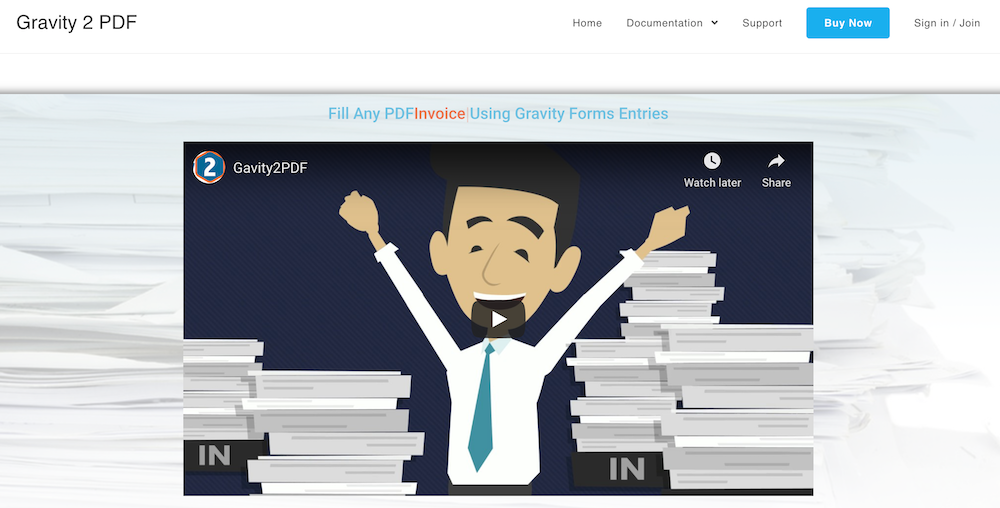 Gravity2PDF is a premium Gravity Forms PDF solution that lets you automatically fill out PDF documents from Gravity Forms entries. All you have to do is create a Gravity Forms form, upload a PDF document, and map the form fields. However, Gravity2PDF requires you to install the PDFTK binary on your server for it to work. It's not an out of the box solution.
The plugin also integrates with a variety of cloud hosting solutions and Infusionsoft (now Keap). Customers can reach out to the support team by submitting a ticket.
The Gravity2PDF plugin also has a free version that's available in the WordPress Plugin Directory. However, the free plugin has a 3/5 rating and poor reviews at the time of this writing. It's also worth mentioning that it hasn't been tested with the latest three major releases of WordPress.
Key Features:
Supports 11 different form fields including name, email, phone number, signature, and checkbox.
Lets you configure PDF permission settings to prevent unauthorized users from accessing them.
Lets you send completed PDF forms to email, FTP, Dropbox, Google Drive, or OneDrive.
Pricing: Starting at $47 (free version available)
Gravity Flow is a form-based workflow platform that allows you to implement various workflow processes through an intuitive drag and drop configuration. Its PDF Generator extension lets you add PDF creation steps to your workflows.
The plugin generates a custom PDF template that's designed like a notification with merge tags. It offers support for conditional logic, scheduling, and sending via email as an attachment.
According to the plugin's documentation, "[PDF Generator] is not intended to replace the advanced, full-featured Gravity PDF plugin which Gravity Flow also supports." In addition, Gravity Flow offers an integration that allows you to use Fillable PDFs in your Gravity Flow workflows.
Customers can submit a support ticket by logging into their account. The plugin also has documentation with instructions on how to get started.
Key Features:
Available as a premium extension for Gravity Flow.
A simple way to generate PDFs from Gravity Forms entries.
Lets you send PDFs via email as attachments.
Pricing: Starting at $54 per year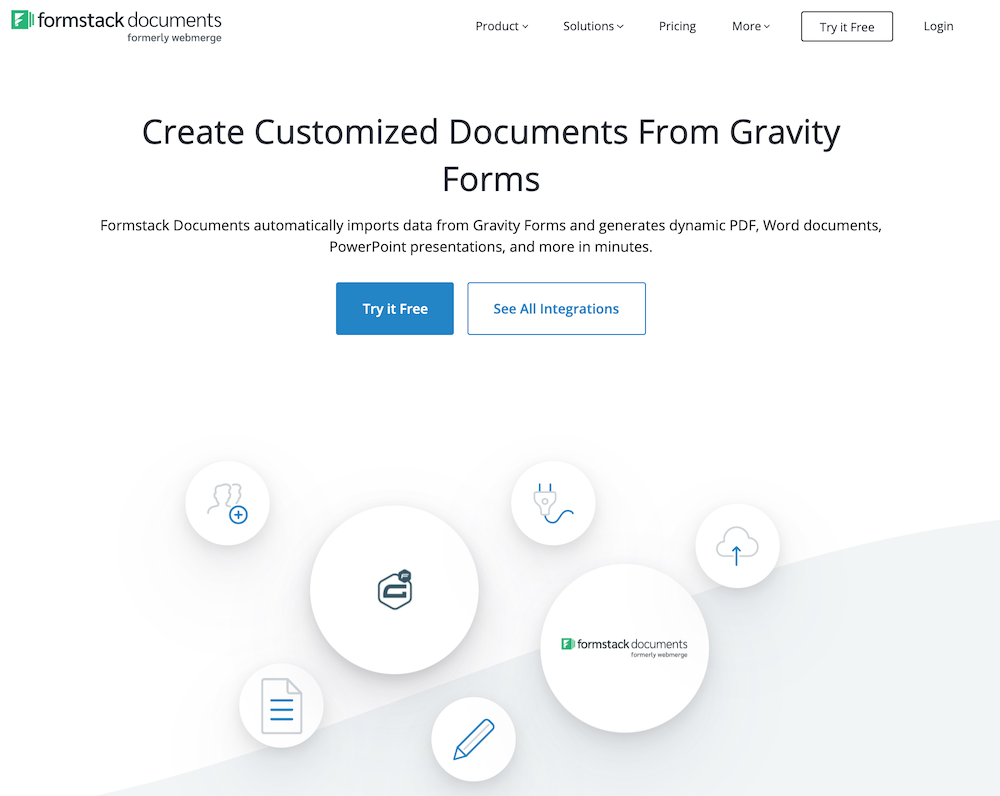 Formstack is a powerful online form builder that offers Formstack Documents (formerly WebMerge). This Gravity PDF solution isn't exclusive to WordPress or Gravity Forms which is why it's much more expensive than other plugins on our list.
Formstack Documents lets you automatically import data from Gravity Forms and generate PDFs, Word documents, and PowerPoint presentations. Most importantly, it integrates with over 150 different apps including Salesforce, Zapier, and Adobe Sign.
Support is available through support tickets and how-to articles in the Formstack knowledge base.
Key Features:
Lets you upload a fillable PDF or build one with Formstack Documents.
Integrates with over 150 third-party apps.
You can integrate with Formstack Documents to send data from Formstack online form submissions to populate documents.
Pricing: Starting at $31.99 per month (free trial available)
Set Up a Gravity PDF Solution Today
A Gravity Forms PDF solution makes it easy to export Gravity Forms entries as PDFs that you can send to customers via email, print out, add digital signatures to, and so much more.
If you're looking for a robust, feature-rich Gravity PDF solution for your business, we recommend going with CosmicGiant Fillable PDFs. You can do all of this without messing around with PHP, HTML, or CSS code.
We're biased, as we make Fillable PDFs, but it is honestly the best solution: it offers all the PDF functionality you need, backed with outstanding support, and an outstanding team (we're Gravity Forms Certified Developers!).
You can get Fillable PDFs here.
If you'd rather start out with a free plugin to test out the waters, GravityPDF is worth considering. Just note that whilst the plugin is free, it quickly gets more expensive than Fillable PDFs.
Ready to export Gravity Forms entries as PDFs? Get CosmicGiant Fillable PDFs today!