We're pleased to announce that Entry Automation 4.0 will be available over WordPress auto-update and our downloads page beginning August 24th, 2021.
With version 4.0, we've got a few key things we'd like to highlight that will make your automations via Entry Automation even more powerful.
Added support for including uploaded files with exported entries.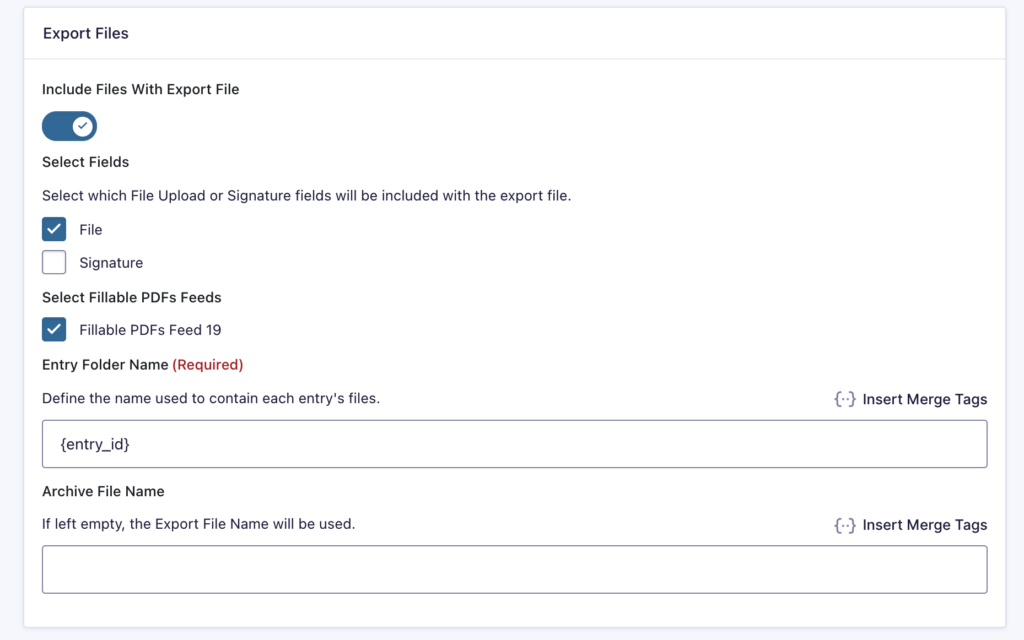 Export Entries Tasks now support the ability to export uploaded files along with the generated export file. The following files are supported with this feature:
When this toggle is enabled in the Task, Entry Automation will generate a ZIP archive containing the export file along with individual subdirectories containing each processed entry's files (if they exist).
Added Task specific merge tags
Entry Automation now supports its own Task specific merge tags that can be used within your Task settings anywhere merge tags are supported. For specifics on these merge tags, check out our documentation article about them.
Integration with Fillable PDFs
As part of Entry Automation 4.0 we're happy to announce we've more closely integrated Entry Automation with one of our other products, Fillable PDFs, which allows you to generate PDFs using your Gravity Forms data and any fillable PDF template you supply to the plugin.
What does more closely integrated mean? Well, you can now process generated PDFs via Fillable PDFs as part of your Entry Automation tasks. When setting up a Task you can select the Generated PDFs option in the list of fields to be processed and either include URLs to their location (similar to uploaded files) in the export file or delete them in conjunction with a Delete Entries Task.
As touched on above, you can also export the generated PDFs along with your export file as part of the new Export Files settings module available in Export Entries Tasks.
If you're interested in using Entry Automation and Fillable PDFs together, we'd highly recommend taking a look at the CosmicGiant Bundle.
Added support for creating new Export Entries Tasks from the Gravity Forms Export Entries screen.
Now it's easier than ever to get started exporting your entries using Entry Automation, especially if you're more used to the built-in exporting tools available in Gravity Forms by default.
With Entry Automation 4.0 you can now select the fields and entry meta you'd like to export via the default Gravity Forms Export Entries screen, and create a new Export Entries Task in Entry Automation based on those selections.
Even if you only intend to manually export entries for a particular form, setting up a manually run Entry Automation Task that is configured to include the fields you need can save you some vital extra clicks in the future versus the default tools.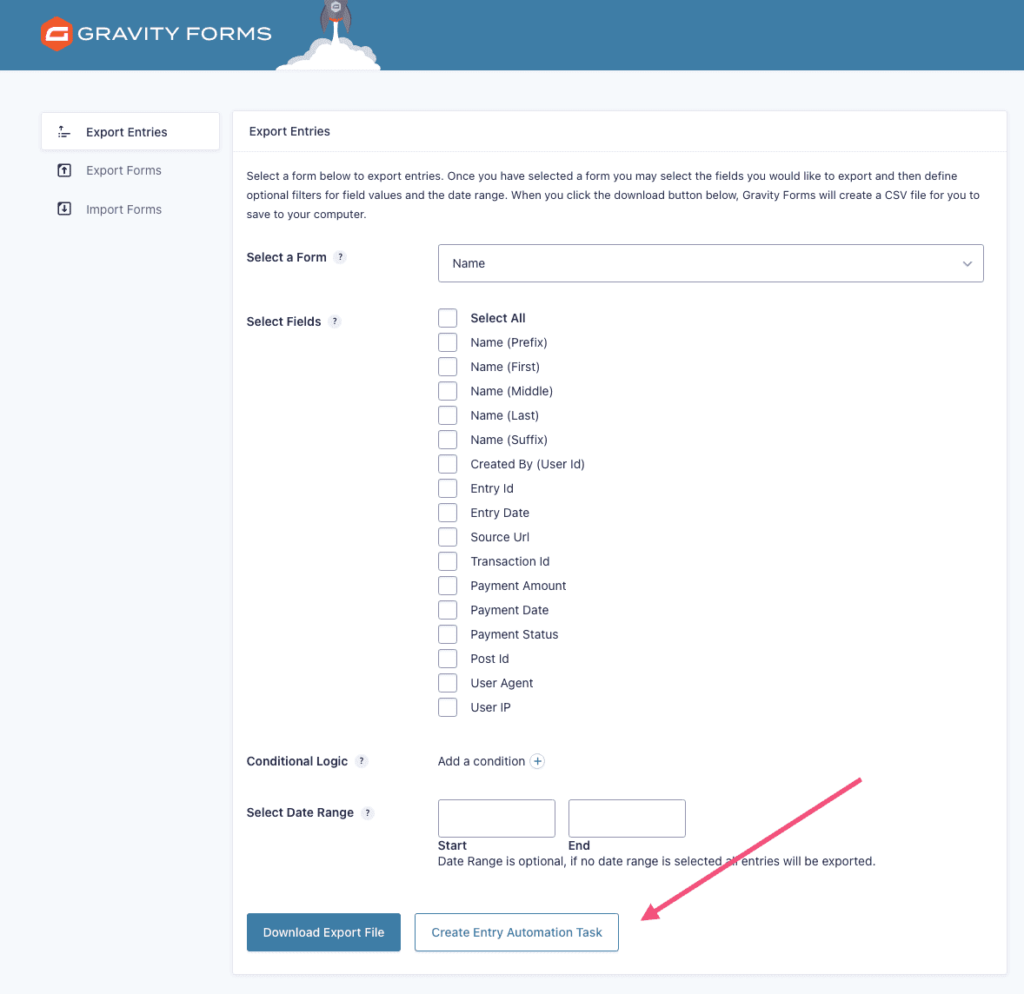 Release Notes
Added support for creating new Export Entries Tasks from the Gravity Forms Export Entries screen.
Added support for deleting PDFs generated by Fillable PDFs when deleting select fields from an entry.
Added support for including uploaded files with exported entries.
Added Task specific merge tags: {date_range_start}, {date_range_end}, {entries_processed}, {task_id}