Entry Automation for Gravity Forms version 1.2 is now available via auto-update and for download from the account page.
This release now allows for entries to be exported as JSON and PDF files. Exported fields can now have custom labels to be used in the export files and can be sorted into a custom order using drag and drop. You can also run a task directly from the task configuration page.
Exporting JSON and PDF files
JSON and PDF formatted export files can now be generated alongside the standard CSV file. PDF export files use identical styling to the print entry view in Gravity Forms. Both CSV and JSON formatted export files display multiple input fields as separate items, while PDF export files display them as one.
Export Fields Enhancements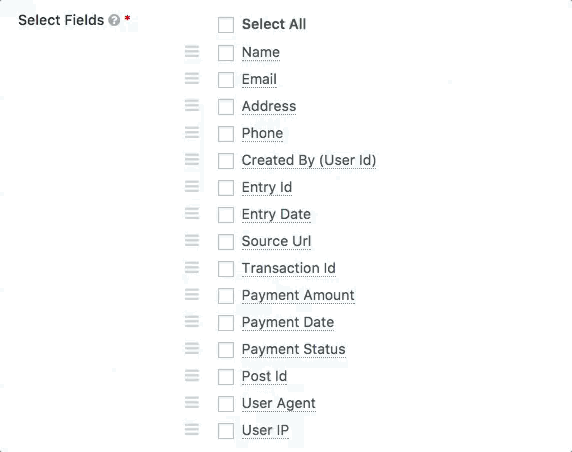 With Entry Automation 1.2, there is more configuration than ever before with how fields are displayed in the generated export file. Using the handles to the left of each field, you can drag and drop them into the order you want them to appear in the file. You can also click the label to set a custom label used only in the export file.
Run Task Now

A new "Advanced Settings" tab has been to the Entry Automation Task settings page. On this tab, you will find a new "Run Task Now" button. With the "Run Task Now" button, Entry Automation will take the settings you currently have configured for the Task (even if they aren't saved) and run the task. This allows you to do a dry run of your tasks to make sure they are working as you imagined. If it is an Export Task, a link will be provided to download the generated export file.
Entry Automation Version 1.2 Release Notes
Added "fg_entryautomation_export_sorting" filter.
Added framework for custom actions.
Added JSON as export entries file type.
Added PDF as export entries file type.
Updated conditional logic to support entry meta and entry properties (including Partial Entries).
Updated date range preview to be relative to next run time (or first task run time for new tasks).
Updated export fields to allow for custom field labels.
Updated export fields to be sortable.
Added "fg_entryautomation_export_field_value" filter.
Added support for custom date string in export file name.
Added support for duplicating Entry Automation tasks.
Fixed email subject not using feed settings option.
Fixed incorrect slug in automatic updater.
Fixed "Last Exported File" link not working due to htaccess permissions.
Fixed several PHP notices.
Updated automation to select active entries by default.
Updated conditional logic instructions based on selected action.
Updated export file to use admin field labels.
Updated export header names to be wrapped in quotes.
Updated search criteria to use custom strtotime method.