Entry Automation for Gravity Forms version 2.0 is now available via auto-update and for download from the account page.
This release is jam packed with highly requested user features along with some bug fixes.
New Feature: Run Tasks on Form Submission
Without question, the most highly requested feature for Entry Automation has been to run a task when a form is submitted rather than at a scheduled time. We're happy to announce that this has been added in Entry Automation 2.0!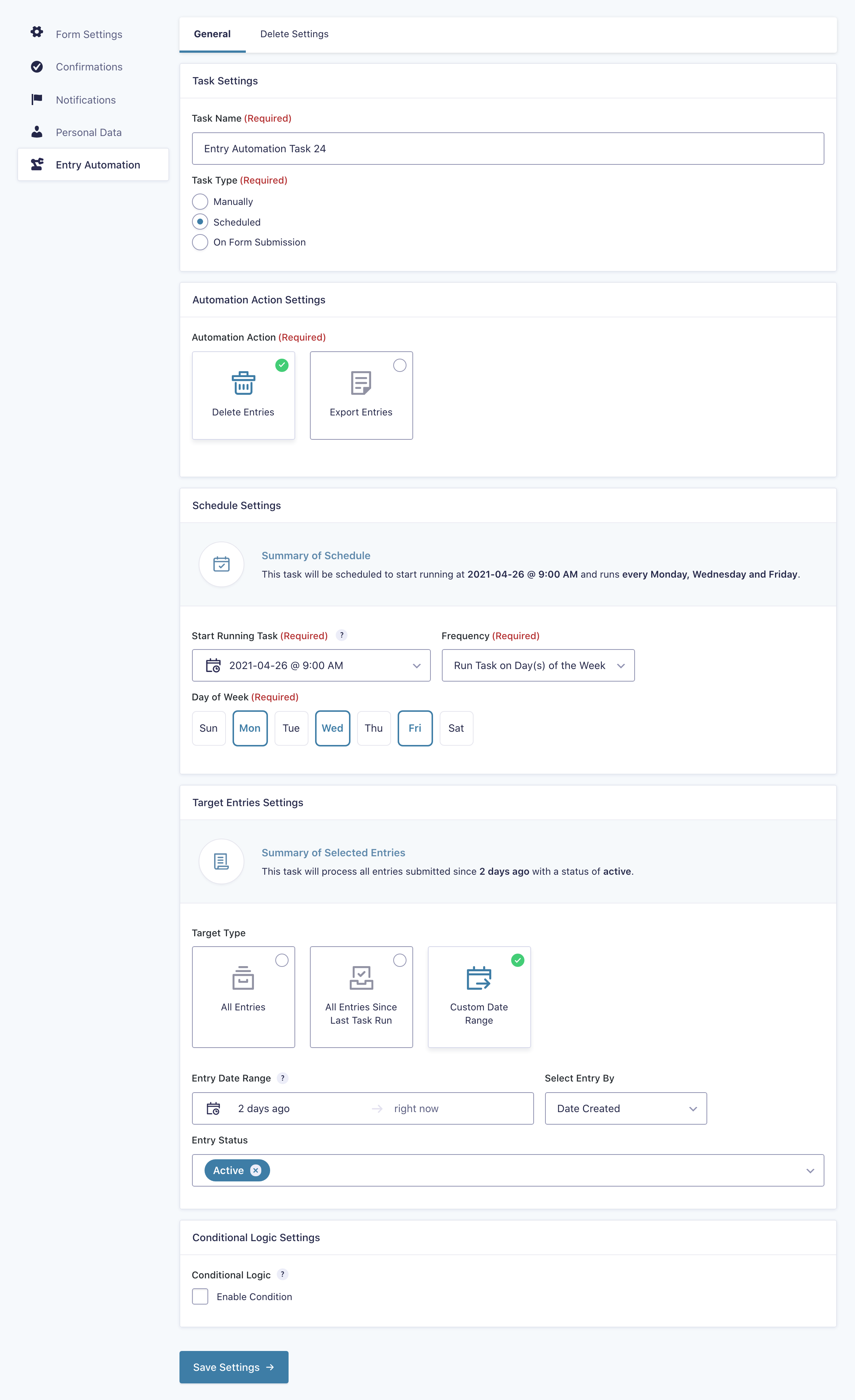 On the General Settings tab, you'll find a new Task Type setting. This lets you choose how you want the task to be run:
At a scheduled time (the default setting)
Upon form submission
Manually, using the Run Task Now button
You can easily change between the different task types at any time.
When exporting entries upon form submission, you might want that entry added to an existing file rather than creating a new export file every time. That brings us to the next new feature…
New Feature: Add Entries to Existing Export Files
Rather than creating a new export file or overwriting an existing file, Entry Automation can now add entries to existing export files! This will give you easier access to all your form entries outside of Gravity Forms.

Based on what order you have your entries set to be exported in, Entry Automation will either add the entries to the beginning or the end of the existing export file.
New Feature: Delete Specific Field Data
Since the initial release of Entry Automation, you've been able to schedule automatic deletion of entries on your forms. An update last year added the ability to send entries to the trash instead of permanently deleting them.
With Entry Automation 2.0, you can now delete data from specific fields rather than deleting the entire entry.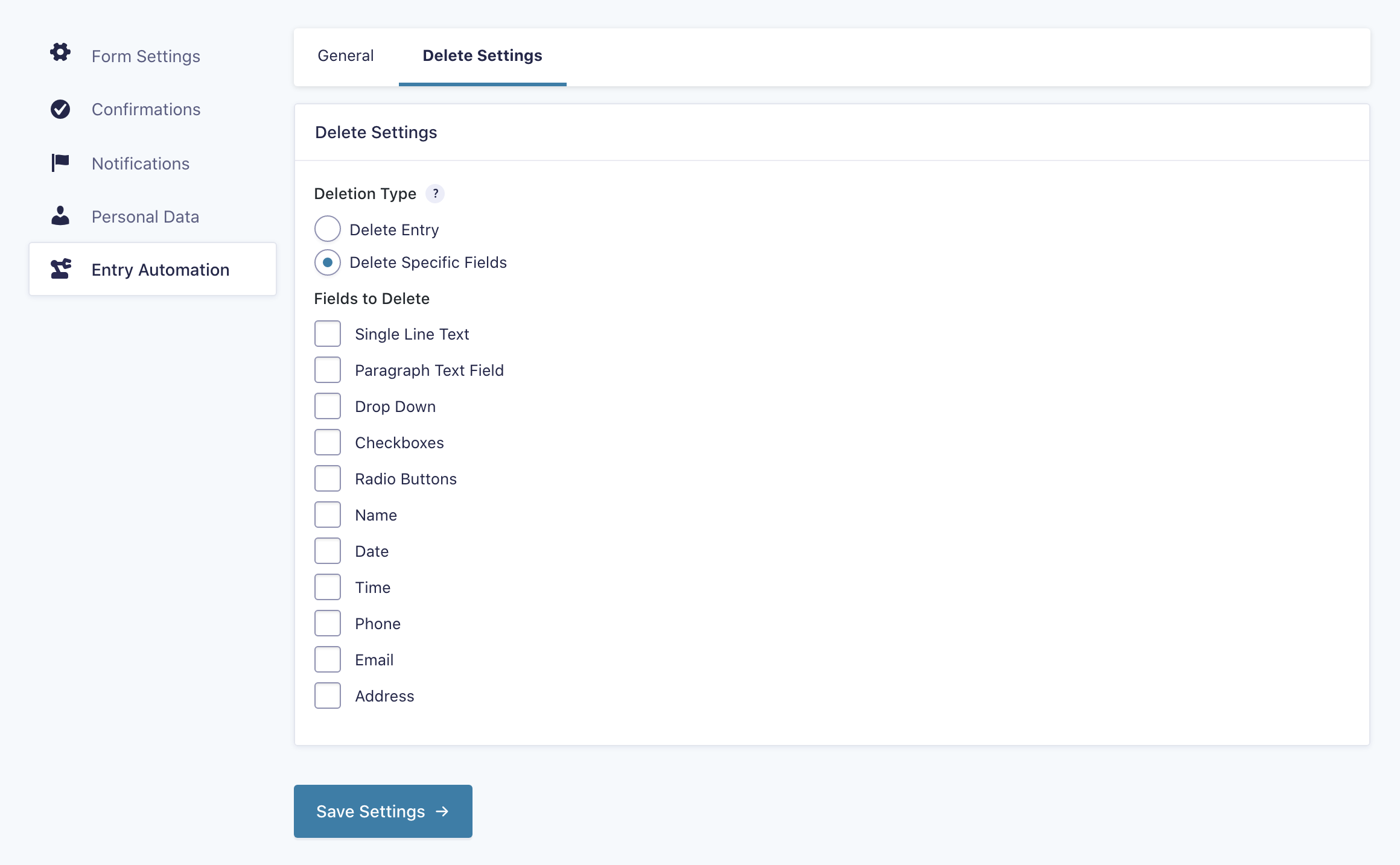 When setting up a Delete Entries Task, you'll find a new Deletion Type setting in the Delete Settings tab. Clicking the Delete Specific Fields option will display a list of all the fields in your form. Select the checkbox next to each field whose data you want removed from the database.
Have a File Upload field in your form? Selecting it to be deleted will also remove the uploaded files from your server.
New Feature: Custom PDF Template Support
Three new filters have been introduced to Entry Automation, letting you create custom templates for PDF export files:
Using these filters, you can provide the path to custom template files, with full access to the entries being exported, along with the Task currently being run.
Click here to read more about how to create custom PDF templates.
What's New in Entry Automation v2.0
Added BOM character to beginning of CSV export file.
Added "fg_entryautomation_export_include_bom" filter to prevent BOM character from being included.
Added "fg_entryautomation_next_run_time" filter.
Added "fg_entryautomation_pdf_template_entry", "fg_entryautomation_pdf_template_footer" and "fg_entryautomation_pdf_template_header" filters for using custom PDF template files.
Added merge tag support to export email from, to, subject and message settings.
Added support for adding entries to existing export files.
Added support for deleting specific fields from entry.
Added support for running tasks on form submission or manually.
Updated Date Range preview to not run when no date is set.
Updated included Mpdf library to 8.0.
Updated Start Running Task task setting to not be visible when task has already run.
Updated the position of the Export Email Message validation error message to be more easily visible.
Fixed a PHP 7.3 warning when exporting to PDF.
Fixed Date not exporting to selected format.
Fixed error message not appearing when no export fields are selected.
Fixed fatal error when upgrading from Entry Automation <1.3.
Fixed input label being included during export when using a custom field label.
Fixed next run time not calculating correctly when using monthly units.
Fixed PHP warning when duplicating task.
Fixed tasks running when form is trashed.